Clovis Man discovered in 1929
Discoverer of Clovis Man Site disputed
Don McAlavy    12-5-02
<![if !vml]><![endif]>

<![if !vml]><![endif]>

One of Ridgley Whiteman's

Clovis points.

<![if !vml]><![endif]>

Map locating Clovis Site.
In the Thursday (Nov. 14, 2002) issue of this newspaper a Pennsylvania author disputed 'Clovis first' theory and who discovered this famous Clovis Man site. He must not be a good author or a good professor of archealogy as he has some facts wrong. This Professor Dr. James Adovasio of Mercyhurst College in Eric, PA, was interviewed over the phone by a Clovis News Journal reporter. When Adovasio says "The site was the first place where Clovis spear points were found in the mid-to-late 1930s by John Cotter . . ." He's already made two errors. I have the book written by Tony Boldurian and John Cotter and no where in that 1999 book "Clovis Revisited" does John Cotter claim to have been the discoverer of the Clovis site in the Blackwater Draw between Portales and Clovis. The other error "found in the mid-to-late 1930s" is a terrible error as James Ridgley Whiteman (still living at age 93) discovered the Clovis site in 1929. Proof is in the "Clovis Revisited" book, in two ENMU booklets, and in the December 2000 issue of the National Geographic Magazine. Their proof is the letter James Ridgley Whiteman mailed to the Smithsonian Insititute in Washington DC in 1929 saying he had "found fluted points in association with mammoth bones." The letter is still on record at the Smithsonian.
Adovasio may be right in that there might be other Clovis sites older than the one here, but so far not enough evidence can prove without a doubt that the other sites are older.
The "Clovis Man site," and the name Clovis given to these early nomads, were named for Clovis, N.M. "Clovis is taken to be basal, the founding population for the Americas," said prominent archealogist Frederick Hadleigh West in 1996. The date 13,500 BC is still considered the proven date when Clovis man first hunted mammoths in Blackwater Draw. In spite of discoveries of other early sites in the last decade these other sites have yet to be proven. The Clovis site remains the one with the most credentials, as it were.
Since 1932 the misunderstanding that A. W. "Pete" Anderson of Clovis discovered the Clovis site has muddied the truth. Pete Anderson never said he was the first discover, but the Clovis Chamber of Commerce kept repeating this major error, on their website, until about November 2002 when they created a new website and left out any mention of the historical Clovis Man Site or Ridgley Whiteman.
I had gone to Ernie Kos at the Chamber in January of 2001 and asked her to change who she lists as the Clovis site discoverer, after the Dec. 2000 National Geographic Magazine came out crediting Ridgley Whiteman as the discoverer. I showed her the proof, as listed above, that my father-in-law, James Ridgley Whiteman, was the real discoverer. Ridgley Whiteman is blind and it is a slap in the face for him not to be recognized in the Chamber's website. He deserves better!
Ridgley Whiteman was a good friend of A. W. "Pete" Anderson, and so was I. Pete was an outstanding citizen and a good newspaperman, first at the Carlsbad Current-Argus, and in 1932 operated the old Clovis Printing Company, owned then by the Clovis Evening News-Journal.  Ironically, Pete later was manager of the Clovis Chamber of Commerce. The only role Pete played in the discovery of the Clovis man site was that he met a noted archeologist, Dr. Edgar B. Howard, at a "dig" at the Barnet Cave near Carlsbad. In 1932 he asked Dr. Howard to come see what Ridgley Whiteman had found in the Blackwater Draw. Dr. Howard came to Clovis and met Whiteman and not only asked to borrow some of his Clovis artifacts, but the following summer hired him as a field hand in his "dig" at Blackwater Draw. In 1933 Dr. Howard confirmed Ridgley's findings. 
<![if !vml]>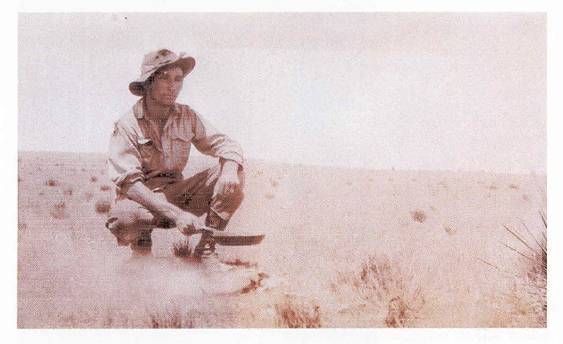 <![endif]>
 Ridgley Whiteman camping near the Pecos River.  Photo
taken in 1929 the year he found the Clovis Site.
OSAPANA POWHATAN
born James Ridgley Whiteman
Ridge Whiteman was born January 15, 1910 in Portales, New Mexico. He was the first son of Levi J. and Katherine Greathouse Whiteman. Ridge's father came to New Mexico in 1902, his mother in 1907, both pioneers in Eastern New Mexico.
Ridge Whiteman married Rachel Merie McCarty on Aug. 25, 1935 in Clovis, NM. Children to this union were James Mac, Katherine Lou, and Scott Fleming. In the year of our Lord, 2001, Ridge and Merie's offspring number 3 children, 11 grandchildren, and 23 great-grandchil­dren. Names of his grandchildren are: Jerry, Tammy, Bryan, Kay, Kim, Keevy; Vickie, Jimmy Dean, Darlene; Scotty and Denise.
<![if !vml]><![endif]>

Left: Ridgley and

Merie McCarty

Whiteman.

Right:  Scott Fleming,

Katherine Lou and

James Mac Whiteman

<![if !vml]><![endif]>
Ridge spent his boyhood years at Portales and Clovis. He had joined the Boy Scouts in Clovis in 1925.  "My interest was outdoor scouting and Indian lore," said Ridge. "My mother had collected arrowheads while growing up in Ohio near the Big Serpent Mound and she had a large collection. From this my interest turned to bows and arrows and Indian crafts. I was the first Boy Scout in New Mexico to get a Basket Maker badge. Ridge was one of the first Boy Scouts at Camp We-Hin-Ah-Pay in the southern mountains of New Mexico and spent many summers contributing to the development of the camp program. "In 1939 I was Scout Master over a bunch of Clovis boys and we were into sea scout­ing." His interests in Indian lore and Indian crafts continued into adult life and are reflected both in his vocation and avocation. "I spent 20 years as an Indian at Knott's Berry Farm at Buena Park, California. Those early years of scouting helped prepare me in that job. Later my daughter, Kathy, became a Scout leader and she introduced her son, Keevy, into scouting."
Osapana was one of the founders of the Federated Indian Tribe in 1958 . This nonprofit corporation strived to maintain old American Indian cultural patterns for non-reservation Indians and their families. Osapana and Chehumpe (Merie) participate in many of their Pow Wows. Osapana comes with rightful title to his Indian ways, being a descendant of Pocahontas of the Powhatan tribe of Virginia, and his grand­mother, Sabina Livers Greathouse who had Cherokee blood.
Before Ridge "Osapana" Whiteman was 27 he had made a name for himself in two different fields: archeology and art. (1) in 1929, age 19, he was the first to discover the Clovis Man site between Clovis and Portales- the National Geographic Society recognized his earth shatter­ing find in it's magazine in December of 2000. (2) At age 27 Ridge had carved a place among New Mexico's greatest artists as a member of the elite WPA Art Project in the late 1930s. Today (2001) he is one of only six WPA artists still living in New Mexico, out of a total of 162.
After retirement in 1972 Ridge and Merie moved back to Clovis, New Mexico. Both taught painting in Fort Sumner, Melrose, and Clovis. Ridge taught Indian lore to members of several Boy Scout troups. Ridge taught his grandson, today called Jeremiah, making of silver and turquoise jewelry. Ridge was active in the Hi-Plains Muzzle Loaders and Black Powder Club and went on many "ron-d-voos," living as they did prior to 1840. Involved with him was his daugher Kathy and Don McAlavy, son Keevy and several of Ridge's great-grandkids. This group kept alive the Mountain Men traditions, trading, costumes, trapping and shooting. Ridge continued his Indian crafts such as jewelry and flute making at the home of Kathy and Don McAlavy in 1992, until he went blind in 2000. Two eye surgeries in Oct.-Nov., 2001 did not help.
Ridge still hears from his old friends from Knotts Berry Farm: Fred Gabourie, and Dave and Pat Bourne. He continues to get visits by Thunder Bear (Ken Trogden) and Flowers Dancing (Olive Meadors) of South Carolina.
Use BACK button to return.
Photos are from the Whiteman collection.
History by Don McAlavy. 
Research by Kim McAlavy Siewert, a granddaughter.
Copyright © 2002 - 2007